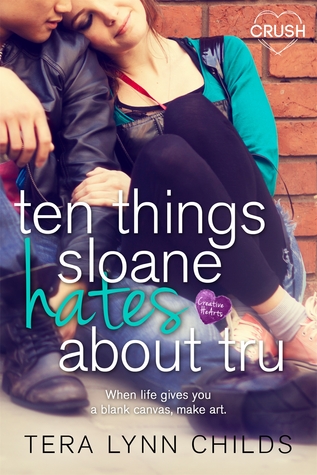 Ten Things Sloane Hates About Tru (Entangled Crush)
by: Tera Lynn Childs
Release Date: September 14th, 2015 


My Rating:



Description: When life gives you a blank canvas, make art.

Sloane Whitaker hates everything about moving to Texas. She hates leaving behind her friends and half her family in New York, starting over senior year at Austin's NextGen Academy, and having to say she lives in Texas. Most of all, she hates that it's all her fault. If she wants to earn her way back to the Big Apple, she has to prove she can still be the perfect daughter.

Which means no vandalism art, no trouble at school, and absolutely no Tru Dorsey, her serial screw-up neighbor, who loves nothing more than pushing her buttons.

But from the moment he vaults onto the roof outside her bedroom, there is something about him that makes her want to break every rule. Suddenly it' s not the ten things she hates about Tru that are at the top of her list. It's the ten reasons she doesn't want to be without him.

Goodreads 


DISCLAIMER: I received an e-ARC of this book (provided through NetGalley) in exchange for an honest review. Non-spoiler review, unless you count small hints. 😉


Characters/Plot: Sloane is very artistic. Tru is an amazing work of creativity. Both characters, when mixed together, its all book feels from there. The moment Tru is introduced for the first time, you fall in love with him right away. Though Tru gives off the impression that he is just a cocky jerk, its all a front. The story is told in Sloane's perspective, but then it jumps to third to show where Tru's mind is, without actually being told from his mind. I really liked Sloane's determination, and I melted when Tru made a connection between Slaone and himself. He saw how he felt inside as how she was in a literal sense. Lost. 


My Honest Opinions/Thoughts: I want to read this book again and again! I loved it, and if you don't believe me, ask my sisters what my reactions to a screen were. This book is so much deeper than the cover. I half expected it to be light-hearted (which I still love), but it was epic! ♥


Extra: If you followed my GoodReads notes, you will know that I already have a picture of what Tru looks like in my head. So, this will be the second time that I have visuals in my review. Literally the first face that popped into my mind was Booboo Stewart. 


Booboo Stewart – ♥
See what I mean? You have to read the book, and see who pops to your mind. I just kept seeing Booboo whenever Tru came back into play. *heart flutters* 


As a major movie addict, I did imagine this as a movie, and it would be awesome. ♥


Sloane was a little harder for me to imagine, but I think I may have found a good fit. Because Sloane very artistic/rebellious, I thought this gif fit pretty good, though I do not know what her hair is like.


Be sure to grab your copy when it comes out, I know that I will adding it to the cart. ♥








About The Author
Tera Lynn Childs is the RITA-award-winning author of the mythology-based Oh.My. Gods. and Goddess Boot Camp, the mermaid tales Forgive My Fins, Fins Are Forever and Just For Fins, and a kick-butt trilogy about monster-hunting descendants of Medusa that includes Sweet Venom, Sweet Shadows, and Sweet Legacy. She has published two e-novellas, Goddess In Time and Pretty In Pearls, and self-published her City Chicks sweet chick lit series. Tera lives nowhere in particular and spends her time writing wherever she can find a comfy chair and a steady stream of caffeinated beverages.


GoodReads | Website | Twitter